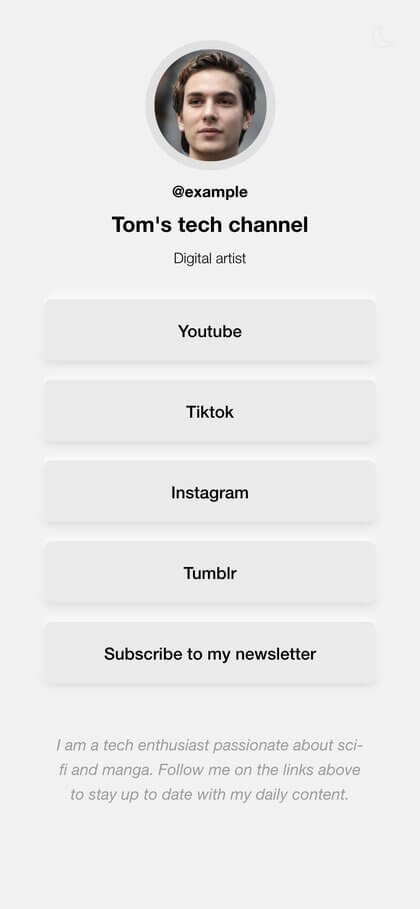 Customize it in seconds
Instantly add or remove links and customize colors and styles to match your preferences.
Frequently asked questions
Why a one-time payment and not a subscription?
We believe that some products do not justify a subscription model. This is especially the case for simple products where there isn't a need to constantly add features for the sake of justifying a monthly fee. As such, we chose to charge a flat fee of $79, which is sufficient to cover our costs, while also providing us with a fair operating margin.
Are there any usage limits (such as monthly page views, subscribers, number of links, etc)?
No limits, you can get as much page views and subscribers as you want.
Can I use my subscribe link as a redirect to my website/youtube channel/newsletter etc?
While we understand that this feature could be useful in certain cases, we believe it's important for visitors to be able to predict where they will land when clicking on a subscribe link. For this reason, we do not plan to ever allow blind redirects.
Can I sync my email subscribers with Mailchimp/Sendgrid/Convertkit etc?
Yes. We currently auto-sync with Mailchimp, Sendgrid, Sendinblue, Mailerlite, Revue, Convertkit and Drip. For everything else, we have an export feature that you can use to get the list of subscribers. We add new integrations based on customer demand.
Is Subscribe GDPR/CCPA compliant?
Yes. Subscribe pages does not use tracking cookies or any other tracking technology. There is no need for consent banners or other disclaimers. We also have a Do Not Track policy and a very restrictive Privacy Policy
that you can check here
.